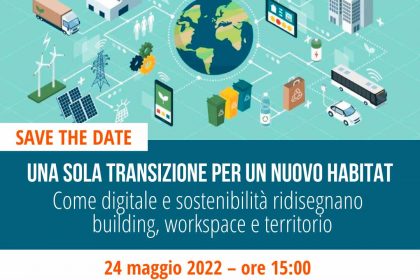 Registration is required to join this event. If you have not registered, please do so now.

Evento di presentazione del White Paper "Una sola transizione per un nuovo habitat" realizzato dal Gruppo di Lavoro Habitat Digitale.
Il documento indica possibili traiettorie di sviluppo e suggerisce alcune proposte concrete per ripensare in ottica innovativa l'edificio, gli spazi di lavoro, la progettazione edilizia e territoriale, ambiti nei quali l'uso delle tecnologie digitali è in grado di incidere profondamente e positivamente nel rapporto tra le persone e gli ambienti di vita, nel contesto della transizione energetica e ambientale al centro del PNRR.
Durante l'evento saranno condivise con i rappresentanti di istituzioni, imprese e mondo accademico analisi e prospettive sugli scenari evolutivi in questi ambiti, affinché si possano cogliere appieno le opportunità offerte dal digitale per lo sviluppo del Paese.
Link all'evento: https://pezzilli.webex.com/mw3300/mywebex/default.do?nomenu=true&siteurl=pezzilli&service=6&rnd=0.6647574436748579&main_url=https%3A%2F%2Fpezzilli.webex.com%2Fec3300%2Feventcenter%2Fevent%2FeventAction.do%3FtheAction%3Ddetail%26%26%26EMK%3D4832534b00000005771b30fd0774970b1250556d1c2859130b74189add6766eb0a63b56543bb9ad7%26siteurl%3Dpezzilli%26confViewID%3D226617023291893632%26encryptTicket%3DSDJTSwAAAAVtfLa12IPnfoo0cW_yOcrBtRe-ttreaKK5laXDslD2uQ2%26